Rachel O:
The media, in a series of editing moves, has now deemed them unacceptable and unfit for public consumption.
I've wanted to write this piece for awhile and, in light of Britney Spears releasing unretouched photos of herself for the Candie's campaign, decided it was time.  Unfortunately I wasn't very surprised by the things "enhanced" on Spears' body – the usual suspects: cellulite, tattoos, blemishes, bruises, slimming of hips, thighs, waist, etc.  But lately there's been a new body part deemed unacceptable by the photo editors at magazines, record labels, etc. – armpits.  That's right ladies, the area under your arm, even when clean shaven has been deemed far too hideous for general public consumption.
I first noticed the trend, while reading Jezebel, as is usually the case with these kinds of things.  They posted the cover of British GQ where Anne Hathaway seems to be missing something.  Her armpit isn't just hairless and smoothed by some moisturizing deodorant – it's not there at all.  Just completely gone, just torso side and…arm, with nothing in between.  Since then, I've come to notice it in other places as well:
Photo stills of Lady Gaga's music video Telephone:
A Kim Kardashian exercise line campaign: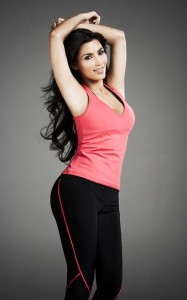 A photoshoot for Harper's Bazaar with Megan Fox:
and finally a Sports Illustrated spread:
Apparently that pesky underarm area hinders exercising, dancing, posing, and uh, swimming.
Now it's just another thing that's been added to a list of things for the resident photoshopper at any magazine, PR firm, etc. to check off their list, but I think the issue is much bigger than that.   Men don't have to deal with the same "image enhance everything" that is so prevalent when it comes to actresses and pop stars.  For example, when Leonardo DiCaprio appeared on the cover of Esquire Magazine, all his stubble, lines, and wrinkles were left intact.  For women, this new underarm thing is another flaw that someone in a board room somewhere has decided is not worthy of publication – it must be fixed.  It is another issue for women to worry about – another thing for girls to look at and wonder "why don't I look like that?" and "what can I do to fix it?"  These images eventually become the norm, what we think women really look like, or are supposed to.
Anyone who thinks it's not a big deal? We're living in a world where  Jessica Simpson going without make-up is a big deal.  And Glamour publishing a picture of a woman with a belly roll is considered a revolution.   So, yeah it's a problem.  We're in a publishing age, where someone in charge somewhere, looked at a Jennifer Lopez magazine cover, a Ralph Lauren ad, and an image in Maxim Mexico and said "perfect, send that to the printer!"
We need a lot less this:
And a lot more this: