Bonnie Fuller posted an article at the Huffington Post yesterday called, "Cougars and MILFS rule! 40 Year-Old Women are WAY hotter than 20 Year-Olds." While I appreciate the celebration of more mature women as desirable, intelligent and beautiful beings, I was put off by the title.  Maybe it's just me but I don't find the term"cougar" or "MILF" flattering. Second, the article mentions women such as Sandra Bullock, Valerie Bertinelli (giving her props for her latest People Magazine cover in which she dons a bikini and shows off her 48 year-old body), Cindy Crawford and her nude cover for Allure Magazine, Julia Riberts and Nicole Kidman to name a few.
Fuller states that this is evidence that age is no longer an issue:
Need more evidence that Age has gone the way of the dinosaur? It used to be that the standard Hollywood refrain for Hollywood actresses was that there were boohoo, no good roles, for them, moan moan, over the age of 40. As for magazines: cover models used to be doomed once they hit 30.
And if an actress became a mother, it was the kiss of death, instantly zapping their sex appeal. Society was like Elvis, who couldn't get hot and bothered for Priscilla once she gave birth to Lisa Marie.
Now here's the new evidence: Julia Roberts mom of three, 41, is the much admired star of the new crime thriller, Duplicity. Meryl Streep, 59, and Nicole Kidman, 41, still can't keep up with the roles they're offered. Michelle Pfeiffer, 50, stars as the ultimate cougar courtesan in the soon-to-be released film Cheri. Courtney Cox, 44, is also starring in a new sitcom, appropriately entitled, Cougartown. Salma Hayek, 42, and Sandra Bullock, 44, just rocked on the last two covers of In Style magazine. Oh, and Calista Flockhart, 44, is to be Hollywood's latest blushing bride after finally bringing Harrison Ford to his knees.
Call them cougars or call them MILFS, just don't call them over. Let's discuss Demi Moore,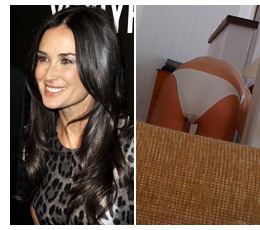 46, and Madonna, 50. The two Kabbalists are the envy of younger women everywhere. Demi, for her sexy, un-plastic-surgery-looking looks and devoted 15 years-younger, GORGEOUS husband, Ashton Kutcher, 31, who Twittered this shot of her over the weekend, and Madonna for her rock hard body and years younger lovers, A-Rod, 33, and Jesus Luz, 22.
Where do I start?
Well, first of all, Cindy Crawford's sudsy nude centerfold graces Allure's anti-aging issue in which Crawford shares her "secrets" on remaining in shape after children and reveals her anti-aging secrets as well.  Surprise! Surprise! Crawford has her own line of anti-aging product that I would imagine fetch quite a price. This reminds me of an ad campaign  Christie Brinkley did several years ago for an anti-aging moisturizer with the caption, "In don't mind aging…as long as I don't look like it." Uh?  Contradiction?  Schizophrenic messages? Not to mention that fact that the caption next to her photograph says," This is what 43 looks like."
Uh, not really.  Um, not at all.
I don't know a lot of 43 year-old women or for that matter 23 year-old women that look like Crawford.  I also don't now a lot of women that have the time, money or energy to maintain her exercise regimen.  Let's face it, Cindy Crawford is not like most of us.
Trainer.  Nutritionist. Chef. Nanny, Pilates instructor. Yoga instructor. Boot camp.  Stylist.  MONEY! Oh, and, lets add in photoshop, please.
The other women mentioned in the article don't reflect the average woman either.  The culture has come to "accept" more mature women (if that's what you want to call it) and, personally, I enjoy being a 30-something woman a lot more than I enjoyed being a 20-something woman.  But, I don't feel this article focused on women that represent the average woman nor do I feel this article focused  on what truly makes a woman over 30 sexy: her intellect, her life experience, her charisma or the complexity of her character.  In keeping with the mainstream culture's obsession with a narrow standard of physical beauty, the article spends too much time discussing the physical appearance of women that don't actually look their age but appear much younger thanks to products and services their celebrity status can afford them
In the end, the reality is that the culture has come to "accept" women over 30 as long as they still look like they are in their 20s.